Ticket Shop Isla Mágica
1
Select date and product
Step 1 of 4.
Select the date of your visit and you tickets
Select the date of your visit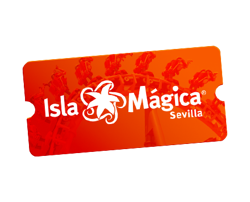 Ticket Shop Isla Mágica
Wellcome to our sales on line site for buying Isla Mágica and the aquatic area, Agua Mágica, tickets.
We wish you enjoy in the Theme Park of Seville.
Buy now your tickets here and go straight into the park!
Please consult here the rules on the access and use of the park.

Phone: (34) 95 448 70 30. Fax: (34) 95 448 70 70. e-mail: atc@islamagica.es
ATTENTION! DUE TO THE OBLIGATION OF THE CAPACITY CONTROL, YOUR TICKETS WILL BE VALID FOR USE ONLY THE DATE CHOSEN.
WE RECOMMEND YOU TO BUY TICKETS AS SOON AS POSSIBLE TO GUARANTEE THEIR AVAILABILITY.

This Online Prices and Promotions are not available at the ticket offices of the park. Tickets sold are non-refundable.