Ticket Shop Isla Mágica
1
Select date and product
Step 1 of 4.
Select the date of your visit and you tickets
Select the date of your visit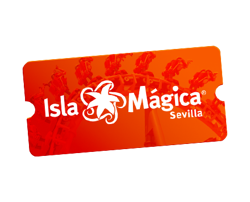 Ticket Shop Isla Mágica
Temporada finalizada. Volvemos el 15 de abril de 2023.
Buy now your tickets here and go straight into the park!
Get the best prices buying your tickets in advanced.This prices couldchange and they will not be available at the ticket offices the date of the visit.
Tickets and other products purchased on thiswebsite will be only valid the date chosen and they are not refundable. To facilitate access to the park and in order to avoid touching mobile phoneswe recommend you to bring your tickets printed.
Children from 0 to 3 years or 4years shorter than 1 m. tall will not need to buy tickets. Please consultaccess regulations and use of the park.
Please consult here the rules on the access and use of the park.
Phone: (34) 95 448 70 30. Fax: (34) 95 448 70 70. e-mail: atc@islamagica.es